Setting up short codes
From the "Feature Codes" tab, you can find the short codes for the various features available on your VoIP phone. You can use short codes to enable or disable features such as call forwarding or call parking directly from your phone or device.
Go to Smart PBX > Feature Codes.
Use the short codes to access and manage the features directly from your phone.
Note
The following features are available by default. You cannot disable any of the features. Administrators can configure the shortcode for all features in Callflows > Feature Codes, see Callflows.
Call Center
If you are running a call center, your call center agents can use the shortcodes to manage their status. See Call Center.
Call-Forward
From your device, you can use call forward to divert incoming calls to a different number. For example, if an employee leaves the company you can ensure calls are not missed by forwarding them to an active number.
To enable call forwarding on a device, use the feature codes and follow the instructions on the phone:
*72 - Enable
*73 - Disable
*74 - Toggle
You can place a divert to any external number or internal extension. After call forwarding is set, the number is saved into the phone and in the PBX portal. You can then use *74 to toggle the call forwarding on and off.
Important
For Cisco phones use: *772 to enable, *773 to disable, and *774 to toggle.
For more information about call forwarding, see Setting up call forwarding.
Hot-Desking
Hot-desking means multiple users can use a single phone during different time periods. You can use hot-desking to optimize office space and reduce costs by virtually move your phone to any desk. You have three options when using the hot-desk feature: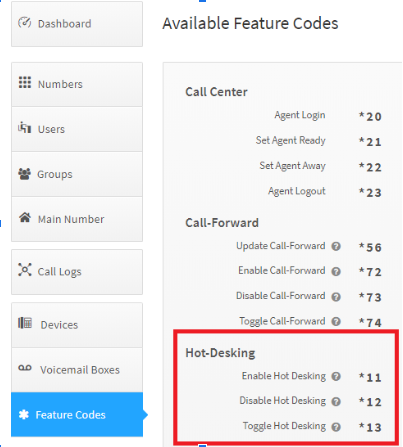 Enable hot-desking: Dial the feature code *11 (default) to log in to any phone. You must enter your ID and optional pin. The phone, on which you have enabled hot-desking, rings when you receive a call and gives you voicemail updates.
Disable hot-desking: Dial the feature code *12 (default) to log out of the phone. After you enter your ID and pin, the phone stops receiving your inbound calls, voicemail updates, and other features. Incoming calls then go straight to voicemail (unless the user is permitted to be logged into multiple phones at once).
Toggle hot-desking: Dial the feature code *13 (default) to toggle between the hot-desk phone and your own devices. If you are logged out of the hot-desk phone, toggling logs you into your own devices. If you are logged in to a hot-desk, toggling logs you out of any other devices that you are logged into.
NOTE: Before you can enable a hot-desk using the shortcodes, you must first set up the hot-desk extension, see Setting up hot-desking.
Direct to Voicemail (do-not-disturb)
If you don't want to be disturbed, you can send all calls directly to voicemail. Press Tran (transfer), then **, plus the extension number of the recipient. Calls will go straight to voicemail.
Alternatively, you can set Do Not Disturb on all your devices using the portal, see Setting up do-not-disturb.
Intercom
If your phone supports intercom, you can use the shortcode *0 to answer your phone hands free.
The intercom feature allows you to dial a phone and have the phone automatically go to speakerphone mode. This is useful for announcing callers or paging individuals who might not be near their phone.
NOTE: Intercom is a phone-specific feature. Most phones support intercom, however some may not. The feature can also be disabled on most phones directly.
Privacy
You can use the privacy feature by dialling *67 to block your caller ID from being displayed to the call recipient.
Check Voicemail
You can use a shortcode to check your voicemail and any other voicemail by using their extension number. If auto-login is available then you don't need a password. You can set up auto-login at Voicemail Boxes > Edit > Advanced > Options. See Editing a voicemail box.
Accessing voicemail from your desk phone:
Press the voicemail soft key on your phone or dial *97, enter the extension of the voicemail box and you will be prompted to enter your password followed by #.
Alternatively, dial your own extension and you will be prompted to enter your password followed by #.
You can also access your voicemail from an external device by:
Call your office phone number and, if necessary, your extension.
When listening to your own unavailable greeting, press * then your PIN number then #.
You will now be prompted with your voicemail menu.
NOTE: You can optionally add your email address to have messages forwarded to your email as an .mp3 attachment.
Move
You can use the move feature to scan for your call on any phone. For example, if you have to move to another phone that is not in use, dial *6683 from that phone and the system will scan for your in progress call and "move" it to the phone you are currently dialling from.
Parking
If you have multiple incoming calls for various recipients, you can temporarily place calls in a "parking space" using the shortcode and parking space extension. You can let the recipient know to pick up the call from the parking space.
To park a call: Press Tran key (transfer), dial *31 and Tran key again to place the call in parking slot 1. You can now hang up the call and the caller will be placed on hold until you retrieve it.
To pick up a call: Dial *31 from any handset.
NOTE: To simplify the call parking, you can configure a busy lamp field (BLF) soft key using *31 also, see Set BLF manually on device.
To use more parking slots use *32 for slot 2, *33 for slot 3, and so on.
You can also park calls in extension numbers to make it easier to remember, for example, if you want to park a call for Person A at extension 101. You could transfer the call to *3101, and let them know. When Person A is ready to take the call, they simply call *3101 from any phone.
Alternatively, each department could have a parking number, for example, sales might park in 500, with a BLF set up to know when they have a call there.
Note
The length of time a call stays parked is configurable, contact IP Telecom support for details.