MS Teams User Guide for IP Telecom
IP Telecom for Teams provides the benefits of an integrated phone system as part of your collaborative suite to work alongside the standalone desk phones and normal business PBX functionality.
For further information and the latest official support on MS Teams visit: https://support.microsoft.com/en-us/teams.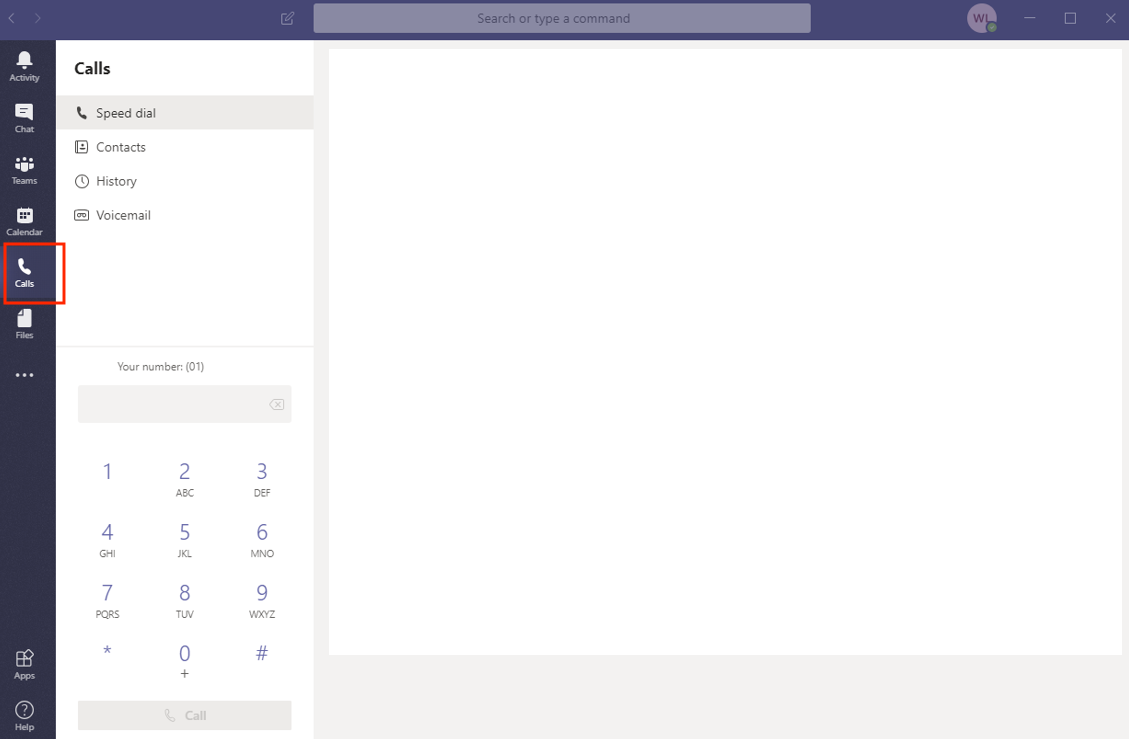 Activity Icon
The Activity icon displays your activity within Teams. Example, Incoming, Outgoing, missed calls with names or extension numbers. Duration and date

Chat Icon
Chat view, lists your recent messages. You can reply to a chat, delete a chat, send files, make a video call, dial or share your screen

Operations
Following are list of the functions you can perform within IPT for Teams.
Dial a number
Click Dial a number if the dial pad is not displayed.

Either enter the telephone number or use the dial pad

Click the Call Button
Menu options during a call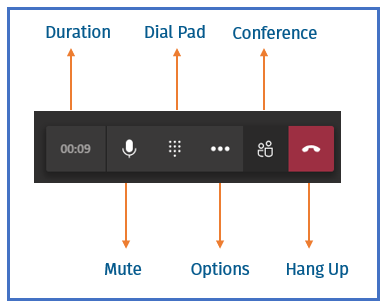 Duration - length of call
Mute - caller will not be able to hear you if selected
Dial Pad - opens dial pad to access digits
Options - More Features
Conference - Show participants and or invite people to join conversation
Hang-up - end the call
End a call
Click the red phone button
Transfer a call - unattended
While on a call, click Options

Click on the transfer icon

Enter the name of the person you want to transfer to or dial the number

The status of the user is displayed: online, offline, busy, idle

Click Transfer
!!! note Should the person you are transferring to have more than one device, you can select the drop-down box and select the device to transfer to
The call has now been transferred
If the user is busy, the caller will be sent directly back to you
Click Resume to connect back to the caller
Transfer a call - attended
While on a call, press Options

Click Consult, then Transfer

Enter the name or number of the person you would like to transfer to

Click Consult

Introduce the call while the caller is on hold.

To transfer the caller, click Transfer

If there is no answer, or if you want to return to the caller, click Stop Consulting

Click Resume to get the caller back
Schedule a meeting
Click Calendar on the left-hand navigation.

Click New Meeting in top-right.

Enter a meeting title.

To invite people, click within the Add required attendees text box.
Enter the name or email address of the person you want to invite then select from the dialog
Enter the other meeting details.
Click Send.
Set up speed dial
Click Calls from the left-hand navigation
Click Speed Dial
Click Add speed dial
Enter the person or company and click Add.
Add contacts
Click Contacts
Click Add contact
Enter the name of person or company and click Add.
View call history
Click
Review the list of incoming and outgoing calls

The "more" button gives you options to call back, add to speed dial, add to contacts, or block the number
Disable voicemail
To disable the voicemail in your MS Teams follow these steps:
Click User > Setting > Calls.

Click on "If unanswered" and select "Do nothing" instead of Voicemail.

Voicemail will be disabled in MS Teams and you can continue to use the voicemail configured in the PBX.
Note
Changes save automatically, there is no option to save changes.
Enabling "busy on busy" calling policy
The "Busy on Busy" calling policy defines how incoming calls are handled when a user is already in a call, a conference, or has a call on hold. If busy on busy is enabled, then new or incoming calls can be alerted that you are busy and the call will be rejected.
You can enable calling policies at the account level or at the user level. Enabling "busy on busy" does not prevent a user from initiating new calls or conferences.
Note
"Busy on busy" is disabled by default, the global MS Teams administrator can enable this setting.
To enable busy on busy in your MS Teams calling policy:
Go to your Office 365 admin center.
Select the Teams Admin center.

Go to Voice > Calling Policies.

Choose your "global" policy (you can also update custom calling policies as required).

Use the slider to enable "Busy on busy is available when in a call".

Click Save.
For more information about global calling policies in Teams, see https://docs.microsoft.com/en-us/microsoftteams/teams-calling-policy.
MS Teams status
Your status in MS Teams does not always determine how your hosted PBX calls will behave. For example, if you have MS Teams status as "Busy", you might still get calls coming in to your devices. If you want to have a true status of "Busy" and have incoming calls rejected while you are busy, then you have the following options:
Enable busy on busy in your MS Teams calling policy Busy on busy

Enable Do-Not-Disturb in your Smart PBX, see Setting up Do Not Disturb

Note

If you have more than one device, you must activate DND on all devices to stop calls coming through.