Voicemail
IP Telecom recommends adding voicemail boxes using the Smart PBX, see Adding a voicemail box. There are no additional settings in the Callflow app to manage voicemail boxes.
Adding a voicemail box
To add a voicemail box manually outside of the Smart PBX app:
Go to Callflows > Voicemail.

Click +Add Voicemail Box

Enter the details:

Name: Name for the mailbox, for example Temp VM
Voicemail Number: can be anything, but could be the same as the extension to keep it simple
Assign To: enter the correct owner to ensure notifications are sent.

Note

The VM box will work without an owner and you can leave this field blank if you are setting up the voicemail for a company-wide purpose such as after-hours.

PIN: Set to 0000, the user can change the pin when they first log in
Unavailable Message: Leave this as "not set", the user can change their message when they first log in

Select a prerecorded message from the dropdown menu. See Adding Media.

Click Advanced for more options if needed.

Require PIN - If accessing your VM through your own device, you won't be prompted for a pin. However you can access your VM on another device, by entering the VM number on any device and then inputting your pin.
Note
If you set up your voicemail in the callflow app, the "require PIN" is checked by default. If the VM is created automatically when you add a new user in the Smart PBX - "require PIN" is unchecked by default.
Adding voicemail to a callflow
Add a callflow, see Setting up an advanced callflow.
From the Basic actions, drag Voicemail across and place in on top of the callflow.
Select the voicemail box that you want to direct callers to leave a message into.
Save your changes.
Reset your voicemail PIN
To reset password of a specific voicemail box:
Go to Callflows > Voicemail.
Choose the voicemail box you want to reset the PIN for.
Under PIN number, you can see the current PIN or can change it to new one. IP Telecom recommends 0000 as default, then you can change it after you log in.
NOTE: From here, you can also change voicemail name, number, assign to another person, and voicemail messages.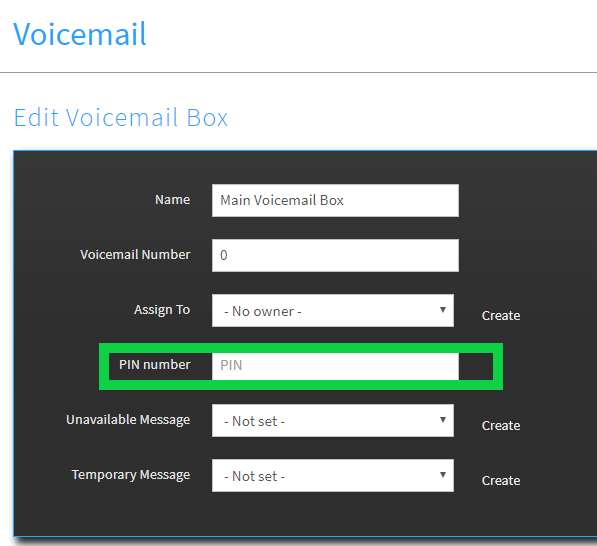 More information