Admin Portal and Applications Overview
Your hosted PBX account has an admin portal where you can manage your PBX settings and applications. Log in to your hosted PBX administration portal with your VoIP account credentials, https://portal.hostedpbx.ie/#/apps/voip.
---
Control Center
In the admin portal control center, you can manage your user or account settings. Click your name and account name on the top right to access the control center.
User - change basic settings such as email and password

Account - add technical contact, set timezone or language for the account

---
Applications
Your hosted PBX UI has several applications to help you to set up and manage your global phone system from anywhere. The Your Apps page displays the applications that are available for your hosted PBX. To specify a default app, drag and drop the application icon into the DEFAULT APP area.

Your PBX administrator can access the App Exchange to add more apps to your hosted PBX account. From the UI, you can switch between apps by using the application switcher

.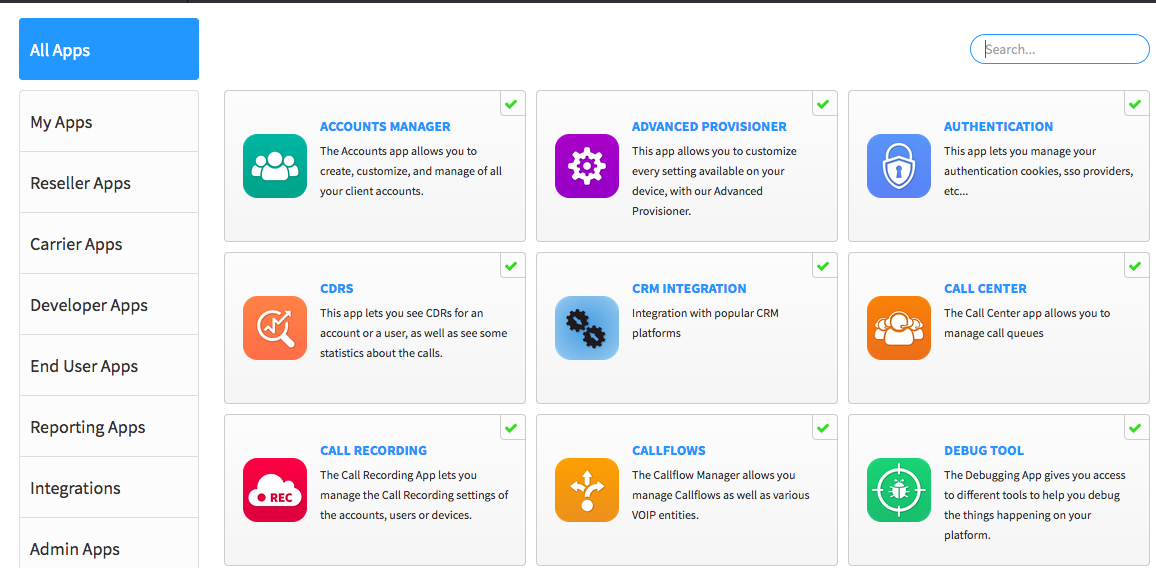 Info
Some of the apps listed below might not be available in your PBX depending on your account type and access permissions.
App
Description
Smart PBX:
set up and manage your office phone system. After your account has been set up by an administrator it's best for as much configuration to appear in SmartPBX as possible for your PBX users to see. Spend some time stepping through the application and working with the features available for you.
Callflows:
define what happens when a caller dials any extension or number Advanced Functions using Callflows. If it's not possible to complete your objectives using SmartPBX, use Advanced Callflows. Some common advanced functions callflows excels at include:

Creating sub-menus for incoming calls
Creating secondary, tertiary, etc. callflows. For example for multiple locations/companies in a single account.
Creating custom feature codes

Call Center
manage call center queues and agent status throughout the day
Stats Center:
view metrics associated with your call center.
Call Recording:
set up call recording on your VoIP system
Voicemail Manager:
manage the voicemail boxes for all users in your phone system
Webhook Manager:
provide near real-time information to other services through API requests
IPT Connect:
integrate your PBX with popular customer relationship management (CRM) platforms, such as Zoho
PBX Connector:
configure your existing PBX hardware for use with the VoIP hosted PBX
---
Enable and disable applications
In the App Exchange area, click the application that you want to enable and use the slider to turn it on or off. If enabled, the application appears in the "Your Apps" area for your account.